Long time readers will note that it's hardly just now I've stumbled on to an obsession with mechanical watches. I've always been fascinated with tools, aesthetics and Military influence on design. At the center of that intersection (6 corners in Chicago parlance) lays the Submariner. Rolex made a small batch of Submariner watches especially for the British Navy. There were probably less than 2000 made, ever. Rather than recite the whole story here, I'll simply direct you to
Gear Patrol
's informative article about the subject,
here
. But as long as you're here, look at the pretty picture: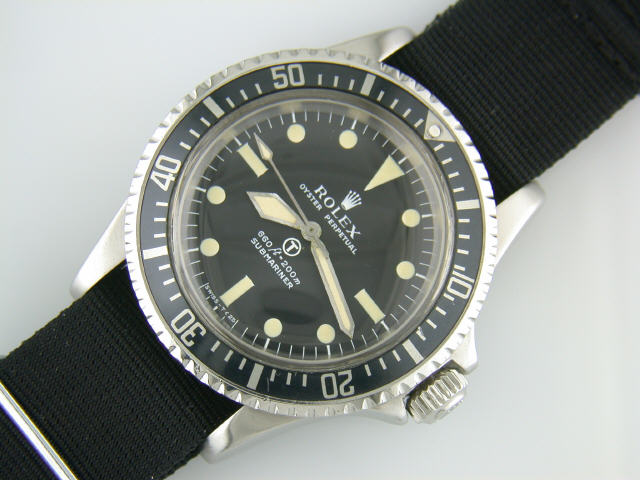 Beautiful, right? Well, it could cost you about $80,000-$100,000. Doesn't look so hot now, does it? Unless you have that kind of scratch laying around, in which case, good on you. The whole purpose of these watches was that they were tools - tough, waterproof watches with automatic movements, designed for legibility - "sword hands" replacing the usual Rolex hands, and work, with no option but to wear a military strap, the bars being fixed to the case. They shouldn't be six figure status symbols, but supply and demand being what it is, scarcity makes it so.
Enter
Steinhart Watches
. Due to patents no longer preventing designs from looking like this, they've created what in watch circles is called an "homage" watch to the above design, the
Ocean Vintage Military
. Looking much like the above watch, but in a 42mm case (instead of a 40mm case that Rolex Submariners have long used), it is made of well machined 316L stainless steel, powered by an ETA 2824 automatic watch movement, which is built like a tank, with ubiquitous replacement parts available, and a 300 meter waterproof depth rating, if you feel like diving that deep and seeing what time it is. While it will never be a Rolex, it's not $100,000; It's $500. Though beautiful, it is a tool, not a status symbol. If you want a full review of this watch, you can't do better than
Worn&Wound
's review of it, available
here
.
And it made a lovely 40th birthday present to myself.