I personally am of the opinion that while athletic shoes are fine for athletic endeavors - going to the gym, running, playing basketball and so on - they should not be worn for most casual purposes over the age of say, 12. Don't get me wrong, I do believe there are exceptions - shelltoes, for instance, walk a fine line between casual/athletic styling. But for the most part, when you want to wear something casual, but not a leather boot or shoe, a pair of canvas sneakers are never a poor bet. Here are a few of my favorites, along with some editorial about them:
1)
Converse
Chuck Taylors -
Your basic black, low top sneaker. The classic, often imitated, but, in terms of iconic status, never topped. Of course, your foot on the inside might not care about the coolness of the outside, because the insole can feel like cardboard. But hey, if you want a shoe that looks appropriate with jeans and a t-shirt, or 'edgy' with a pair of khakis, or 'artsy' with a suit - your foot may have to suffer.
2)
Converse Jack Purcell -

What these lose out in iconic cool, they make up for in actual comfort. Besides being comfortable, they are a slightly more preppy alternative to the chuck.
3)
Pf Flyers
Center Lo -
These are my personal favorite. They work in all the same contexts as the above do, but look the most interesting. The ribbed toe, the red and blue stripe - I think they are the "coolest", but I also think they are the most comfortable on my feet, though the low back takes a bit of getting used to.
4)
Pro Keds
Royal Lo Canvas -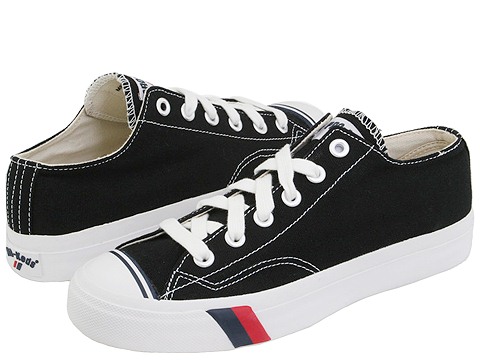 These are also a good option - more comfortable than the chuck, and quite similar looking. The red and blue stripe on the sidewall are quite distinctive.
There are other good options of course, but few shoes are as versatile as a good canvas sneaker. And of course, in my opinion, they should only come in the following colors: Black, White, Natural or Navy. Any louder colors, and their versatility is sacrificed.